I've never known much about Benjamin Franklin, and frankly (yes, another pün) still don't. boingboing.net had an item about him today, and how he compiled a list of 13 virtues which he tried to live by – each day ticking off what he'd done wrong.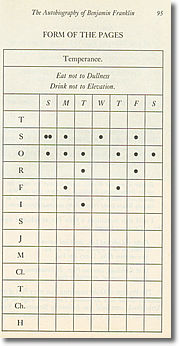 I thought the idea was cute, and it fits very well into my own obsessive list-making. So of course I had to make one myself.
He lists chastity as one of the virtues (as he puts it "rarely use venery but for health or offspring") and I really don't agree on that, but am in fact abiding by that rule by default, which of course just goes to show how the remaining years of my no-i'm-not-thirty-yet!-age are going to waste…
Anywho. I made three different versions of it, and they are all here:
2 Same as above, but I've crammed three weeks onto one sheet (300kb)
3 And this one is slightly different, with four columns on one page, more intended to be pasted into a A5-sized notebook or somesuch (237kb). Also, it doesn't contain the definitions of the virtues.
And you could of course grab all three of the above by downloading all three pdfs in one zip-file (616kb)