I've moved to my own place. After five or so years living with Anna, Albin and Eskil, and lately with Jan, moving to live on my own feels almost like a betrayal of some ideal. I'm not sure what ideal that might be, but it seems indulgent, bordering on, dare I say, bourgeois. I've never had a place of my own, so for me this is all terribly exciting. I'm like someone coming out as gay and boring all his friends by talking non-stop about how excited he is to suck dick; —Like, I have a fridge. It's full of my stuff, and I just left five snowballs in there for a week!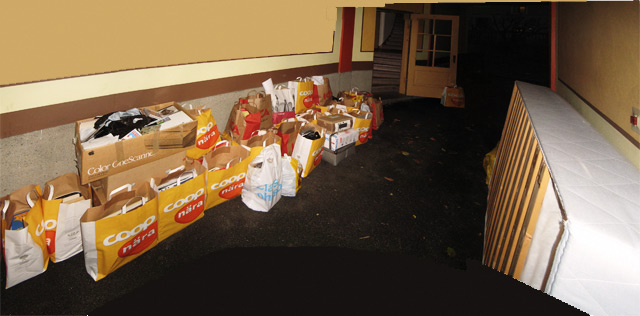 Sara & Olle helped me move two weeks ago, and I'm now the shady subletter of Helgas previous apartment. It's a one room apartment overlooking the river, with Norra Älvstranden on the other side serving as an example of just how low one might slip into upper middle class without realizing it. The Stena Line passes outside my window, as does the motorway, lending an industrial city timbre to the place.
Moving didn't take long. Like a goldfish in a bowl, I hadn't grown beyond what I could fit, and so transporting it didn't take longer than an hour. Packing all my crud, crap and junk, took appreciably longer. When I cleaned out the room, it was emptier than it had ever been during my stay at Gröna Vallen. The indoor climbing wall was as I had found it, and for all the years I've slept next to it, I had tried it only a handful of times. My shuffling feet had scuffed the floor and my bike had left tracks where the rubber had rubbed off.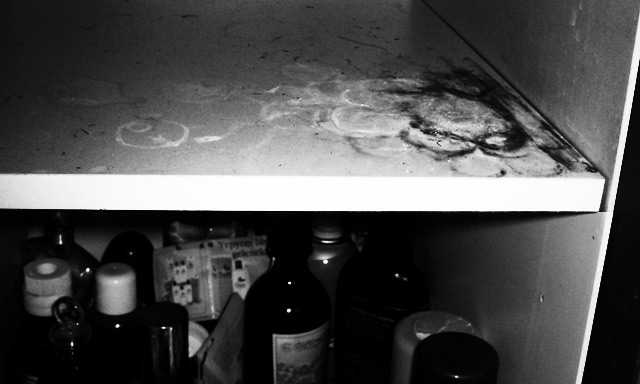 Living by oneself has upsides. Jerking off is easier than ever, and will be even easier once I hang curtains, seeing as how I live on the ground floor. Curtains would also allow me to work easier during daylight hours, and I'll no longer have to fashion light controlling plastic head sleeves to get the retouching work done. I don't own much furniture beyond a bed, so my living room is rather bare. I'm looking into getting an adjustable table and ergonomic chair, but this furniture business will take a while to arrange as work has piled up. I hope to get a coat hanger within two weeks, but am not taking bets on it. Laundry is off the table and buying underwear and shirts in bulk feels like an excellent solution.
Cleaning the old place out was sad. Sad like Bruce Banner walking down the road, but also sad as in confusing. When my year in Iceland was up and I got back to Sweden, it was as if I was the only witness to what I'd experienced there, and were I to go back there would be scant evidence of me ever having been there. Cleaning out the fridge, or the shelf in the bathroom, I felt something similar; I was vanishing the traces of myself, and was wondering what intangibles I was bringing with me, and what I was leaving behind.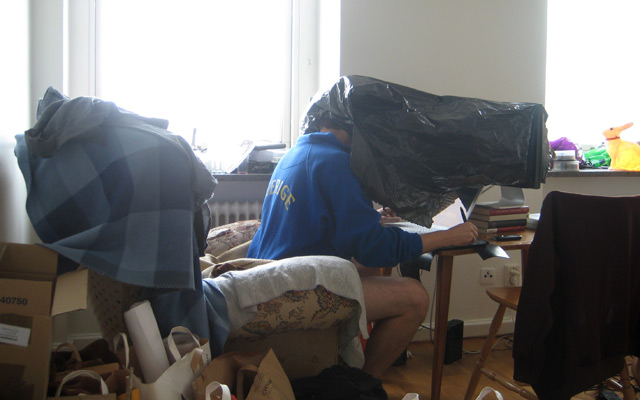 This, of course, should only serve as a reminder that what is important in life is most often our relationships with other people, and that taking care of those, and being mindful of our friends, is a continuous process and should not only hinge on routine but on choice and hard work. (Most people know about this, but I am surprisingly resilient to the obvious) And in total contradiction to this, I have hardly met with anyone the past two weeks, except Sara who has taken pity on me and enjoys laughing at my idiot ramblings about how I will craft a table with a built-in scanner.
I'll make good on this though. As soon as I have something to hang a coat on, and no longer live in paper bags, and have bought either a broom or a vacum cleaner, I'll have you over for tea or beer and maybe Xbox if I lose my mind enough to buy one.